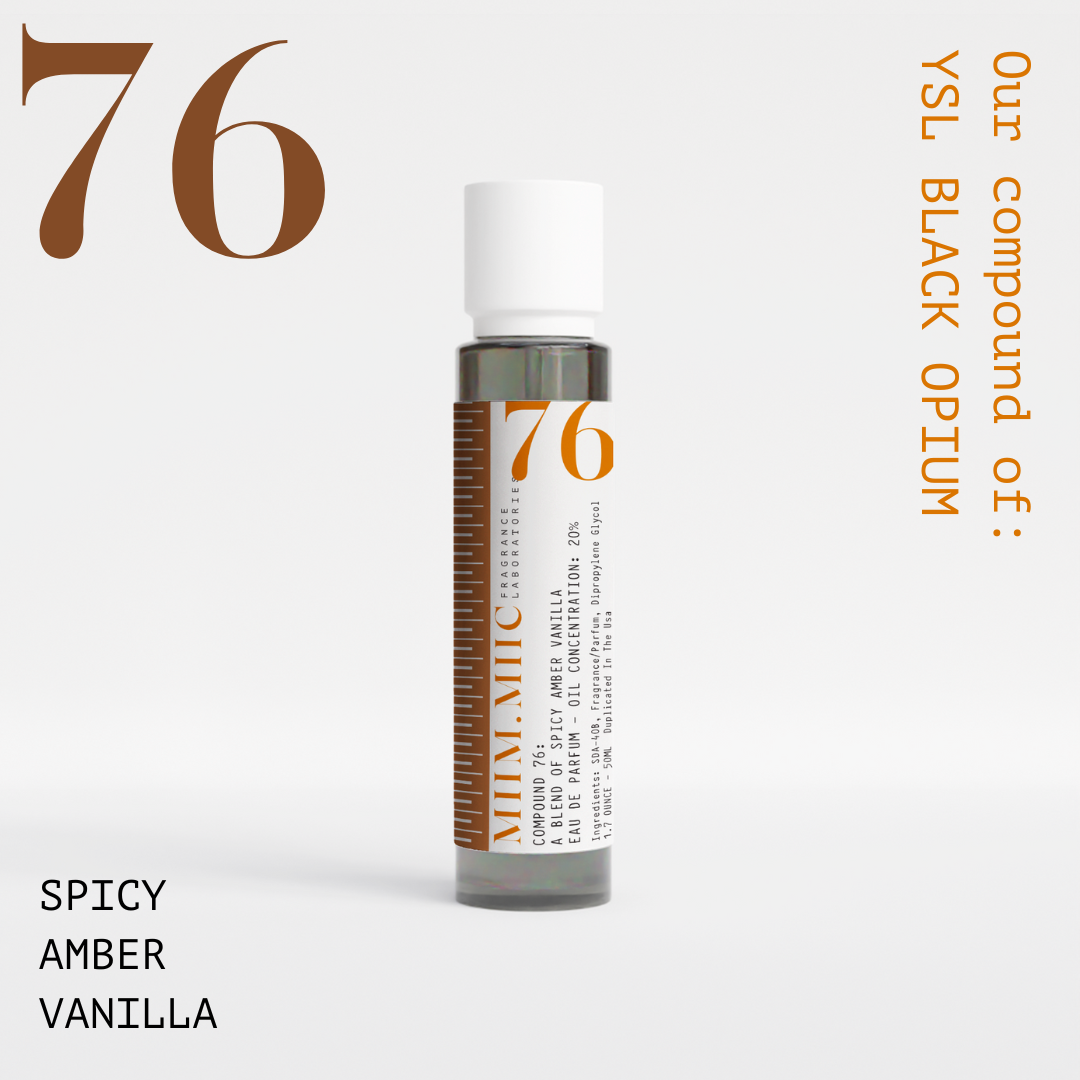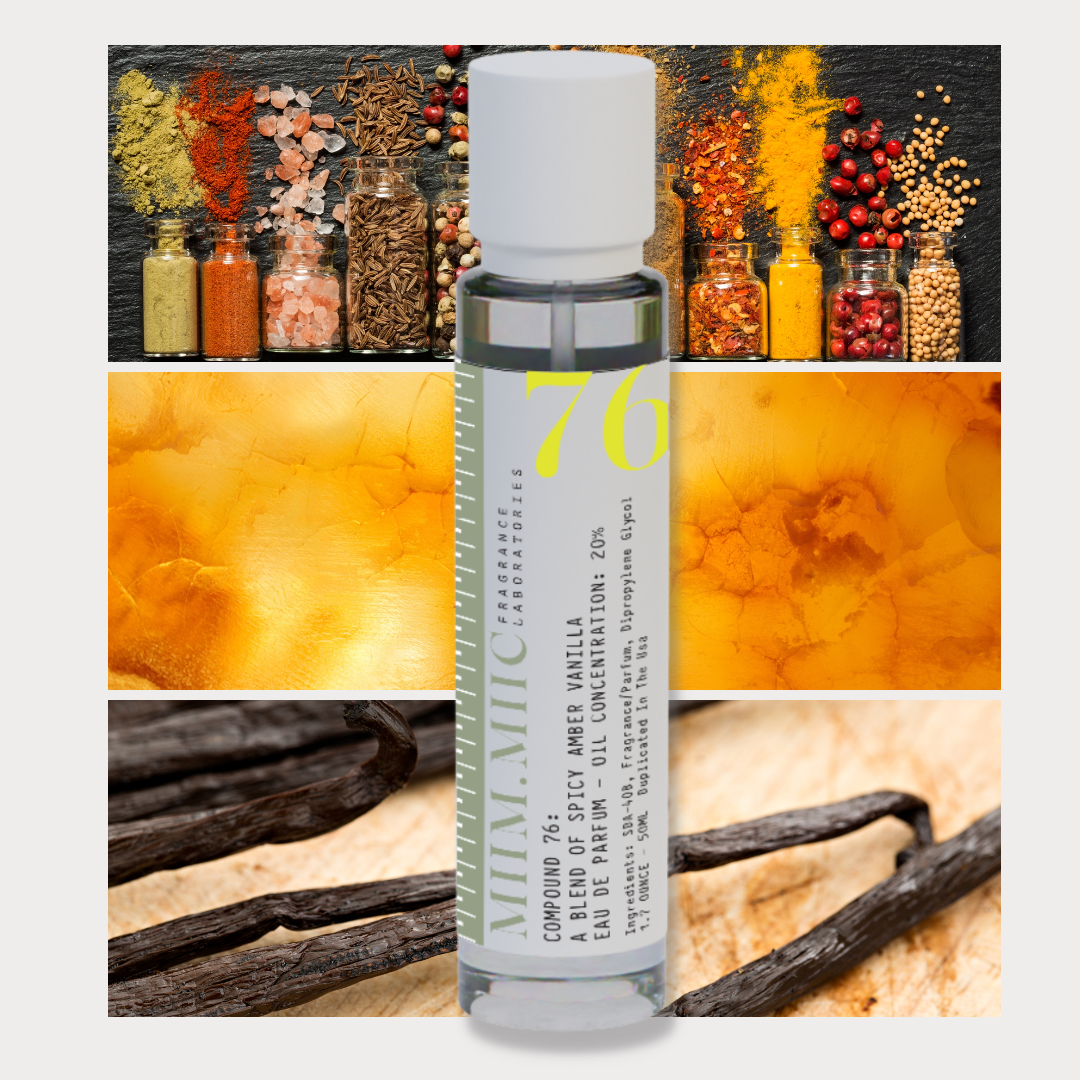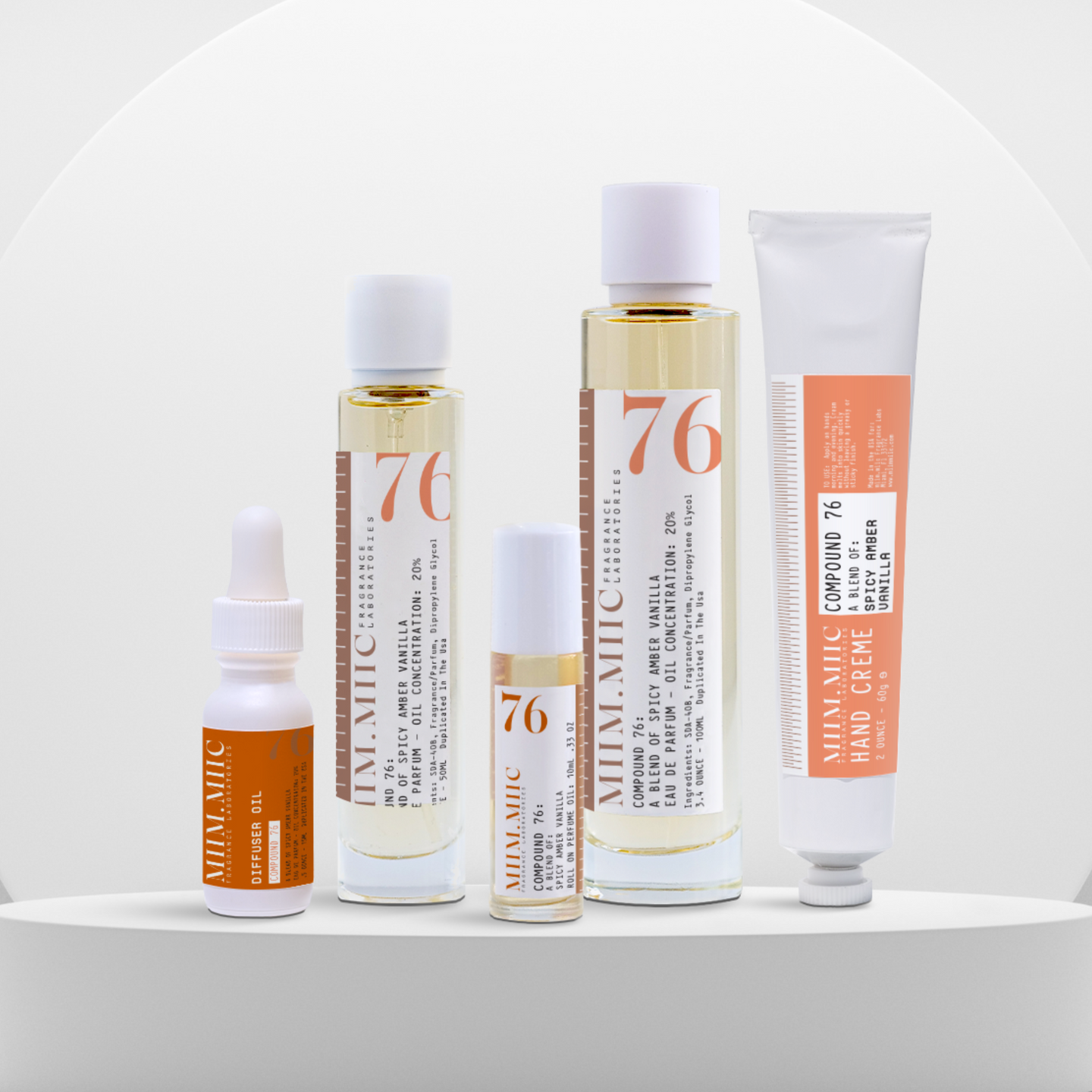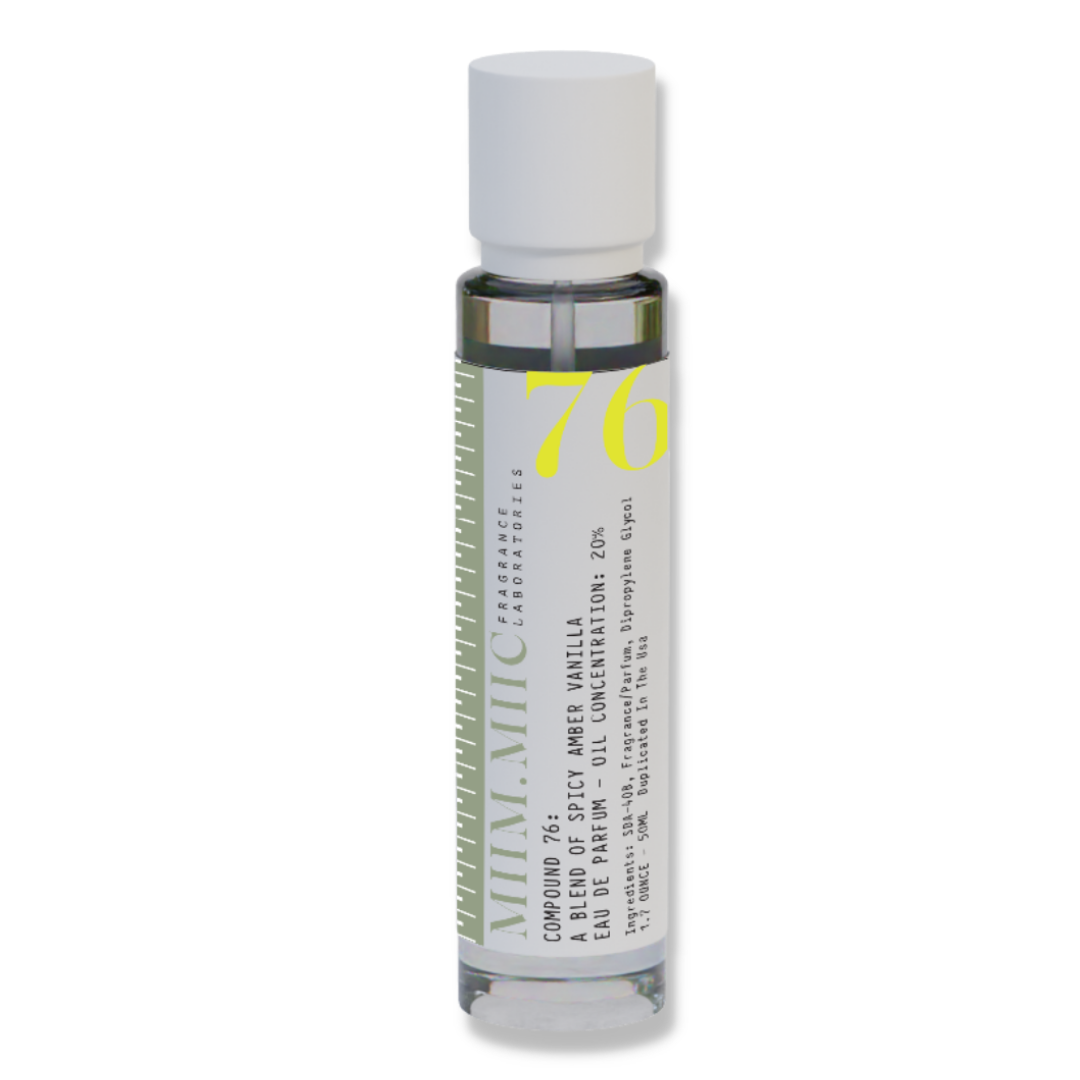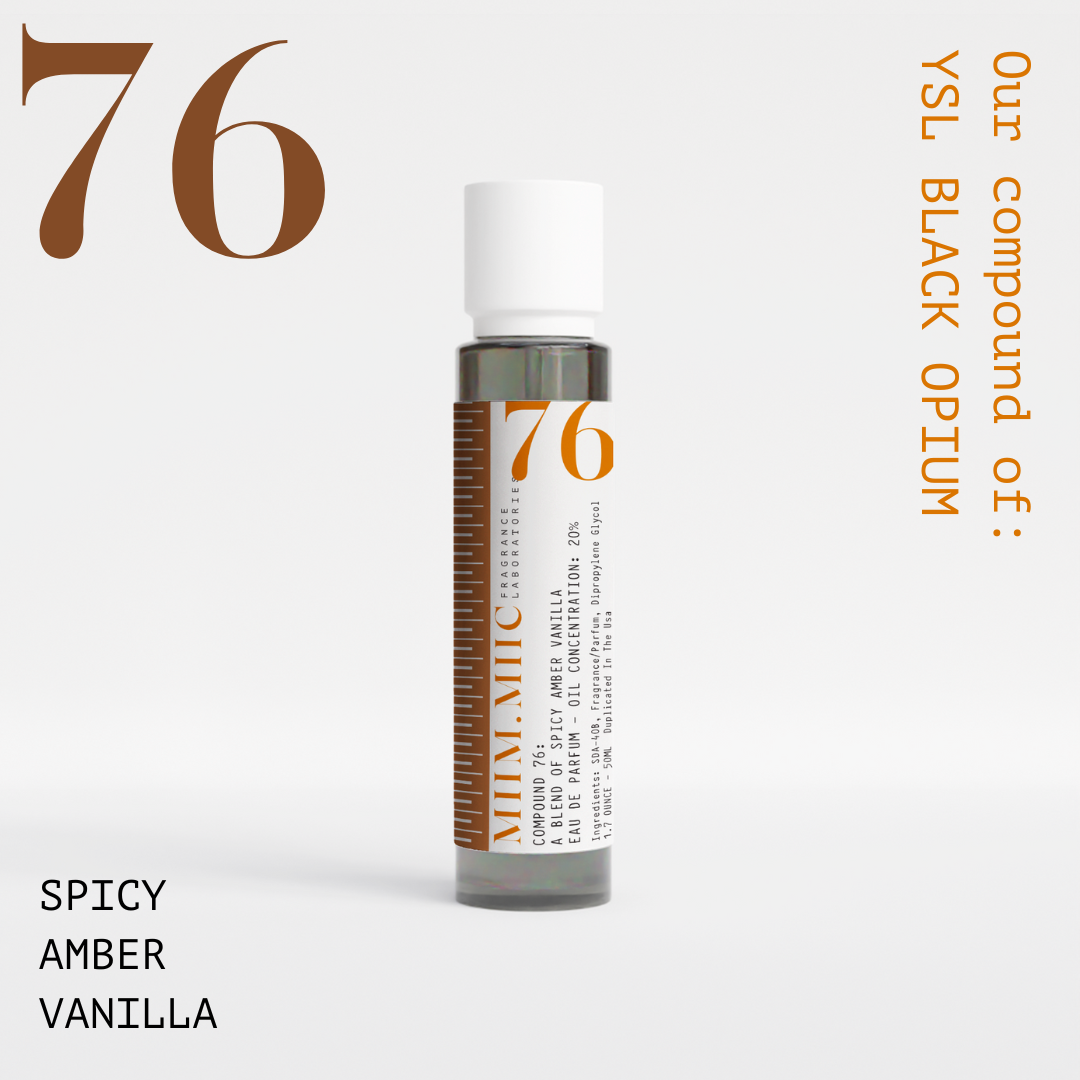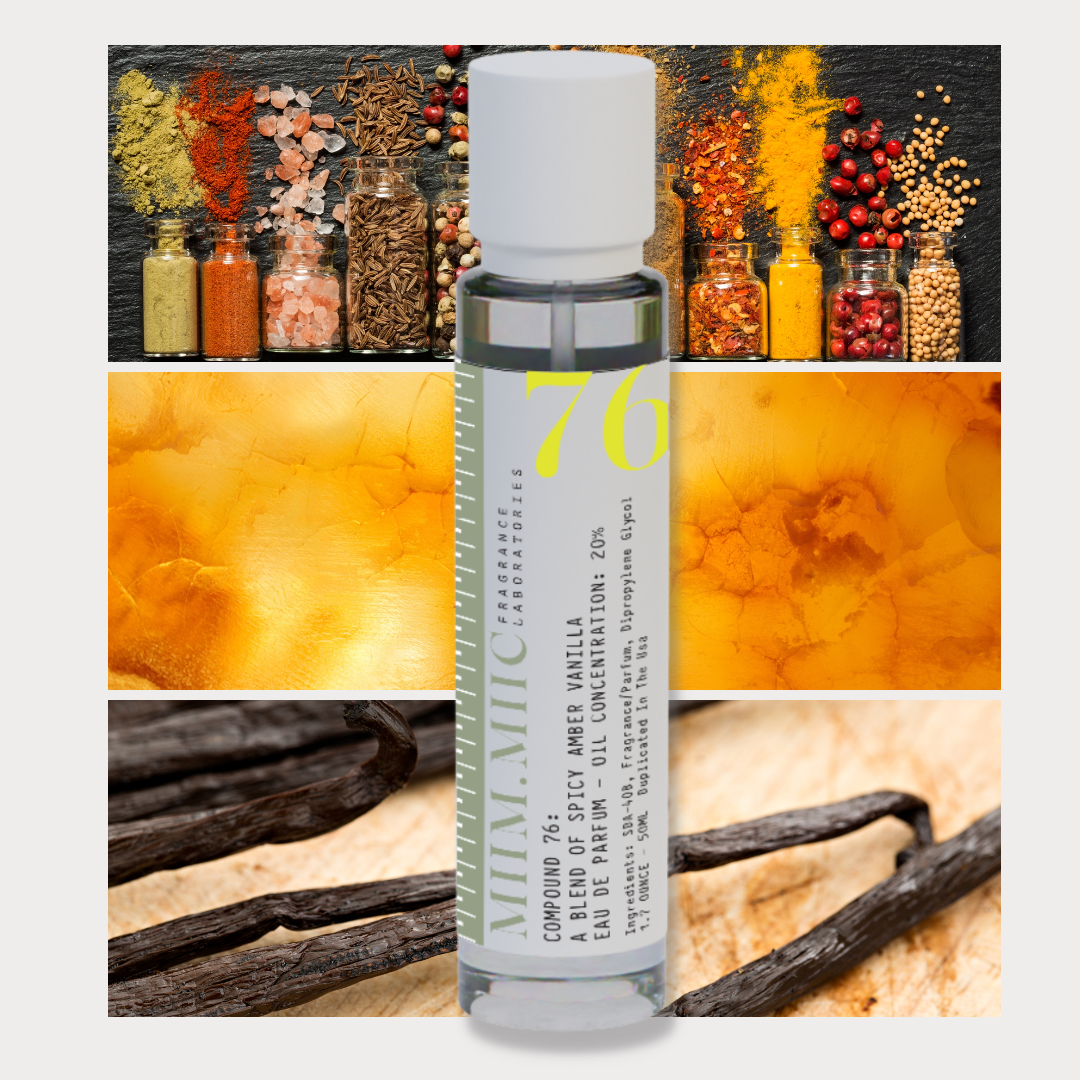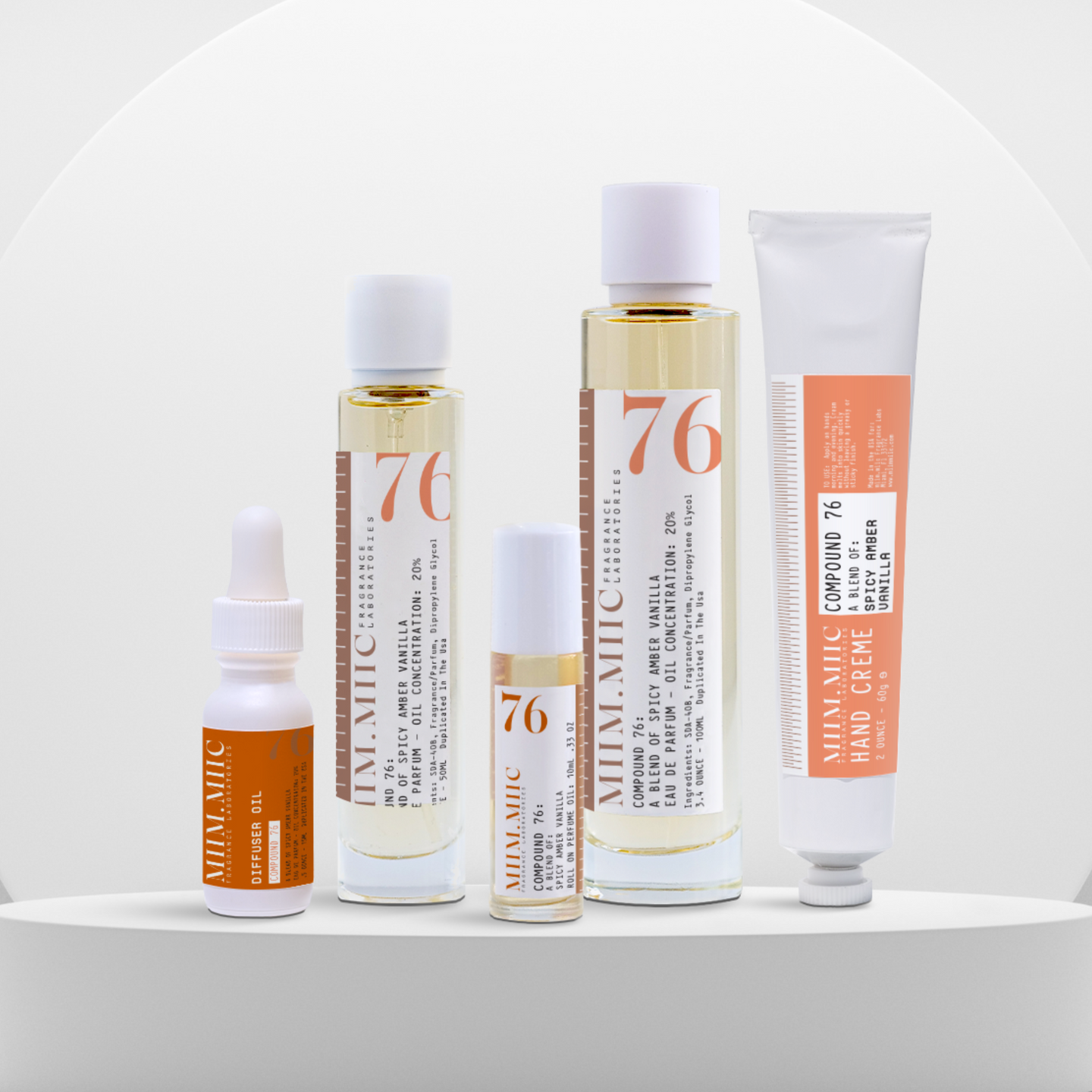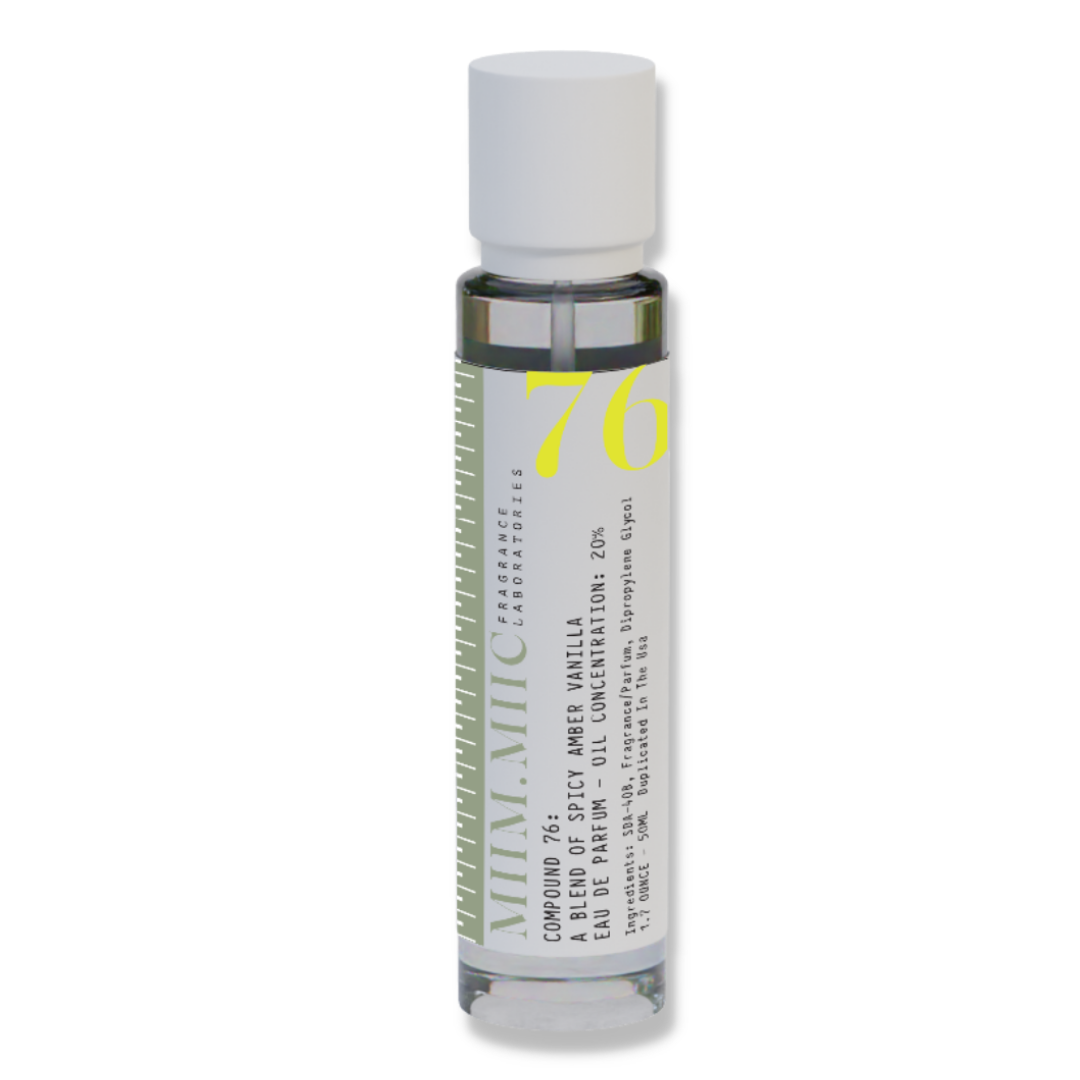 No 76 SPICY AMBER VANILLA Eau De Parfum
Our Compound Of: YSL Black Opium
Regular price

Sale price

$29.00 USD

Unit price

per
A modern Gourmand, #76 has been one of our most requested scents. Built around Amber notes of Coffee and Vanilla, this sexy scent is both warm and seductive. The fragrance begins with opening notes of adrenaline-rich coffee and sweet vanilla that recline into the softness of white flowers for a young, modern scent.
The Notes

TOP NOTES: Pear, Pink Pepper,
MIDDLE NOTES Licorice, Coffee, Jasmine, Bitter Almond
BASE NOTES: Vanilla, Patchouli, Cedar, Cashmere Wood
Ingredients

SDA-Alcohol 40B, Fragrance/Parfum, Dipropylene Glycol
The Formula

All our fragrances are vegan, cruelty-free, and formulated with industry clean standards. They are made without parabens, preservatives, phthalates, or synthetic dyes inside.
The Quality

Our fragrances are formulated for optimal performance and long-lasting wear without being overwhelming. Everyone's spray threshold is different, but if you typically spray 2-3 times a day, one MIIM.MIIC 50 ml bottle can last up to 3-4 months.
About Our Impressions...

MiimMiic Fragrance Labs does not violate copyright. MiimMiic competes with the designer brand.  It does not use their fragrances and is not associated in any way with the designer brands or their manufacturers. All trademarks are property of their respective owner. Designer/brand name is solely used for comparison purposes and to give customers idea of each fragrance's character and scent accords. We do not present our fragrances to be exact copies. We are in compliance with the FTC's statement of policy regarding comparative advertising.
Share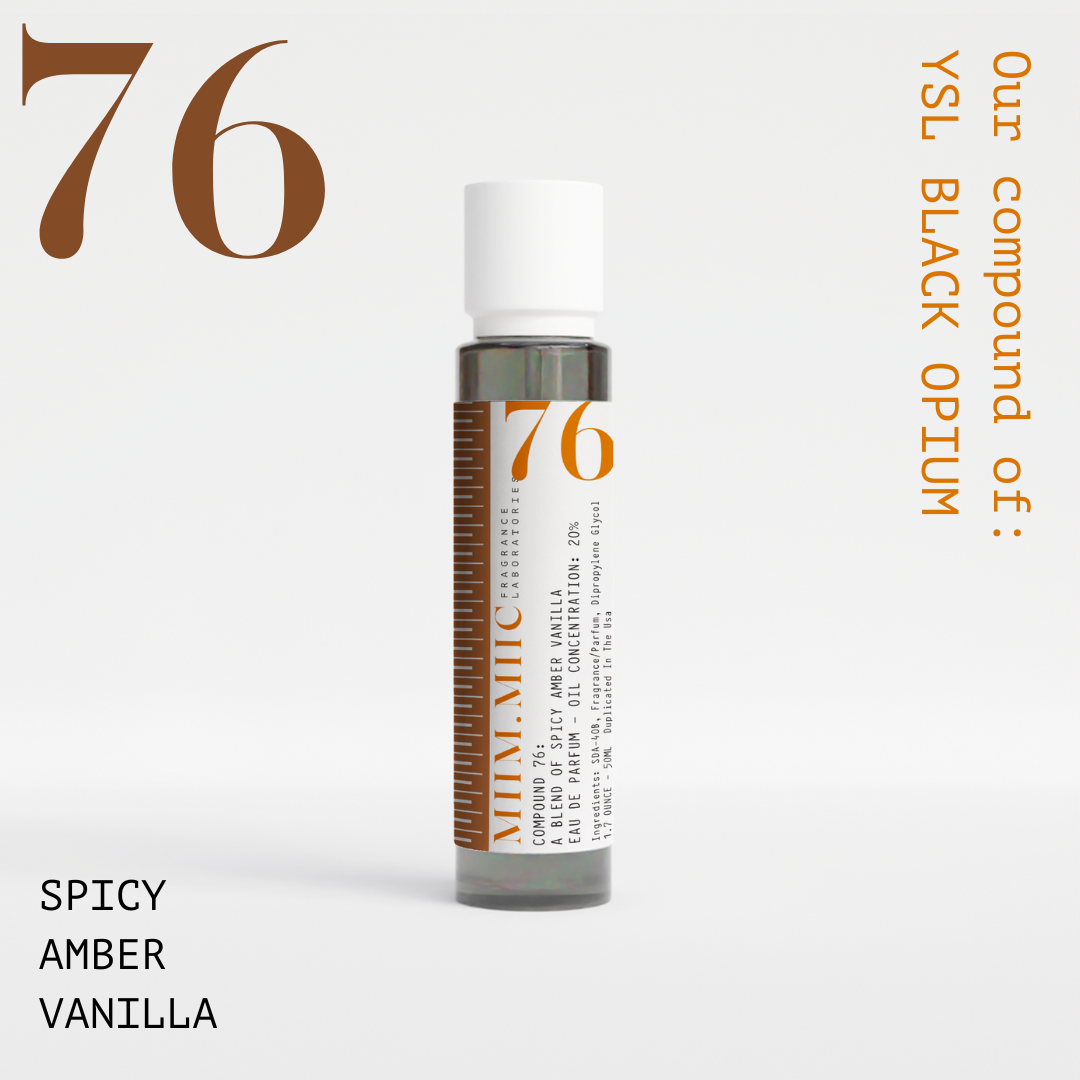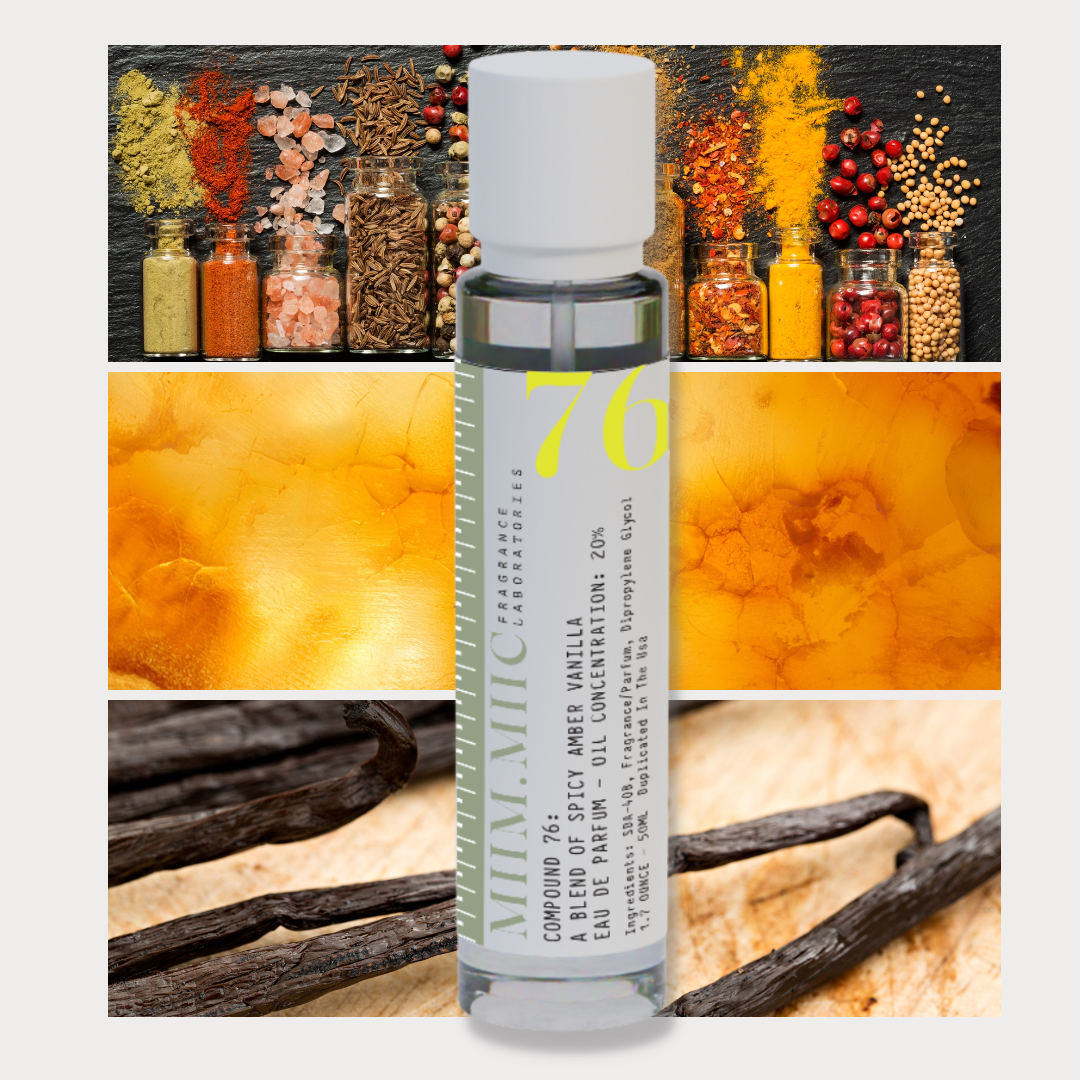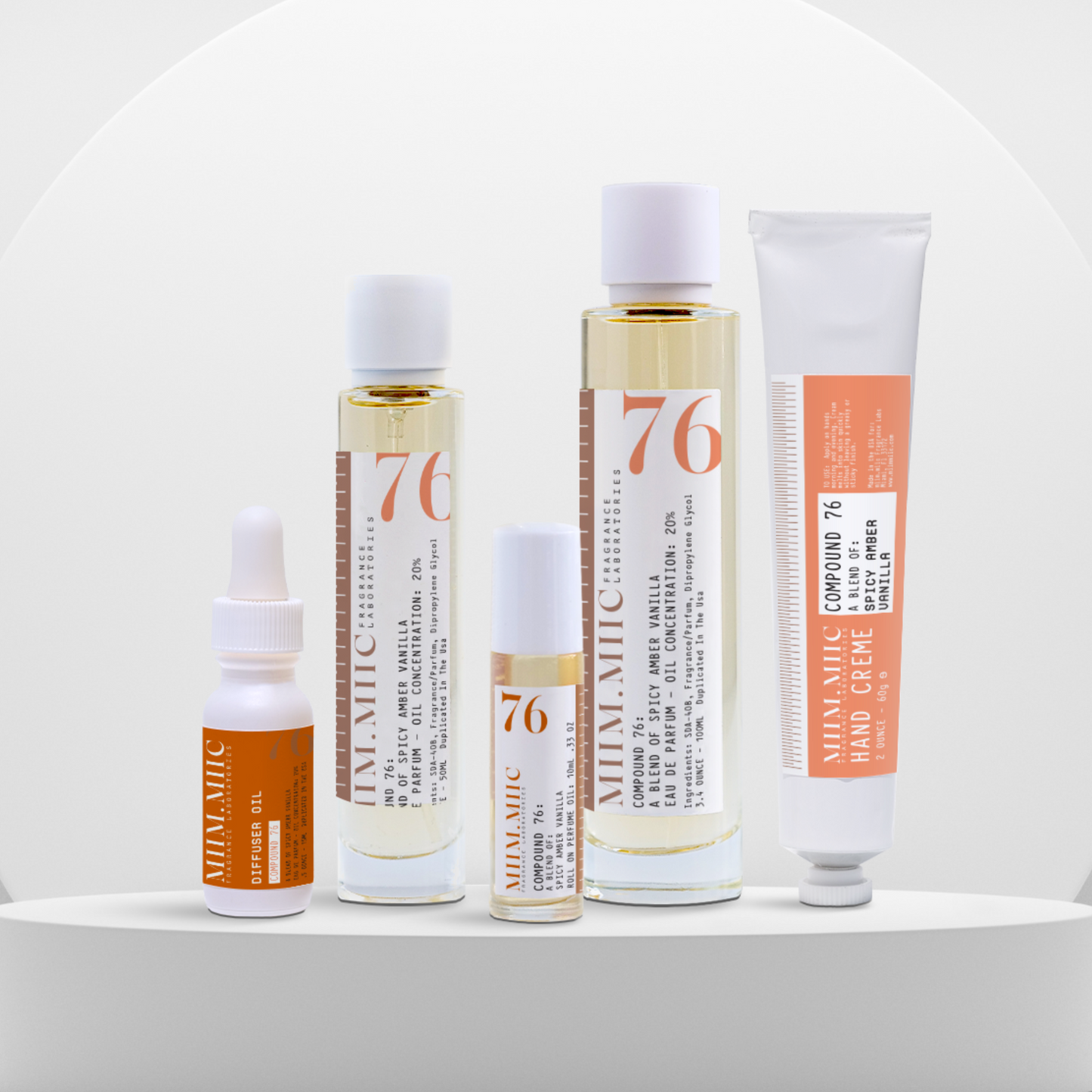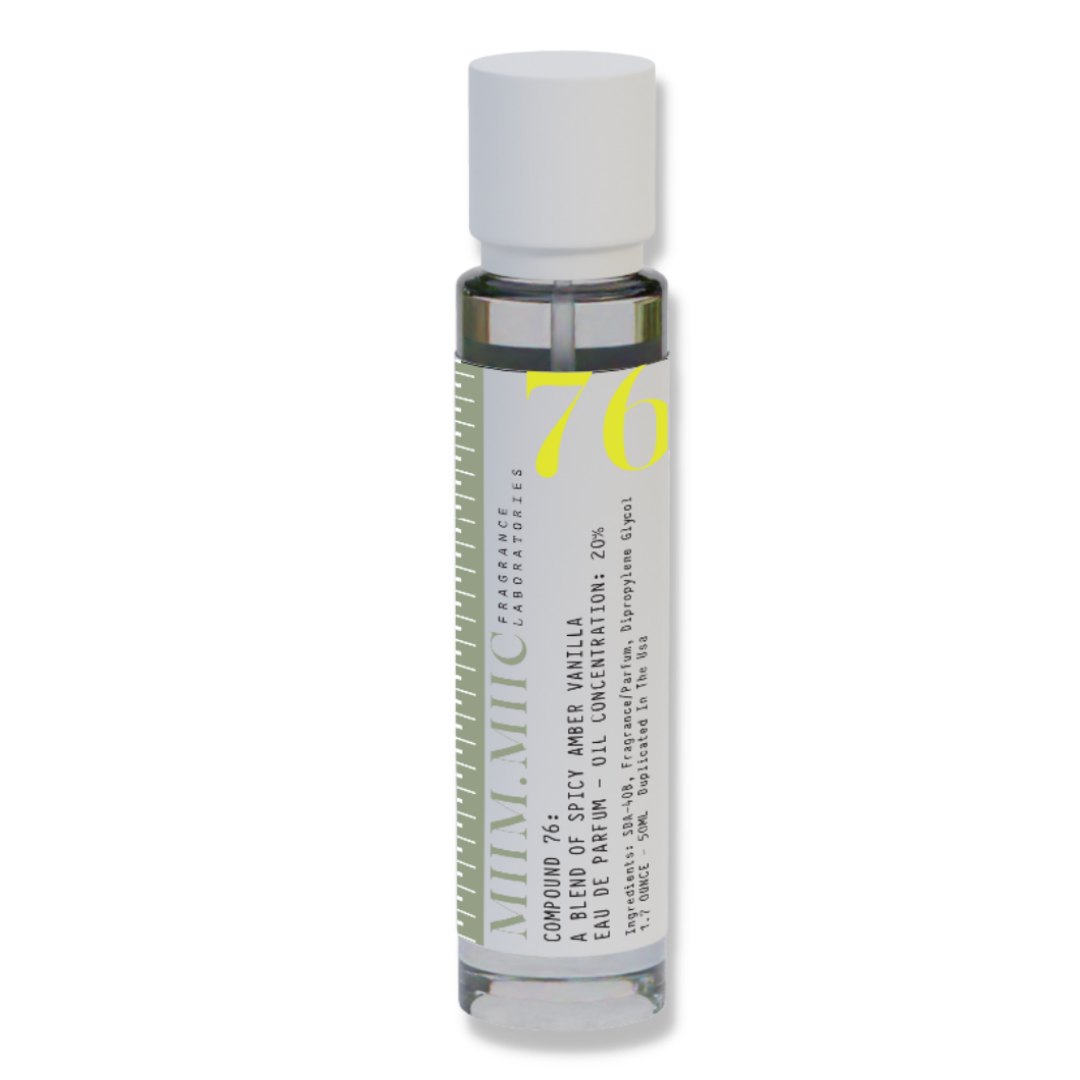 #76
LOVE, LOVE, LOVE this fragrance!!!!
Truly Delicious Base Layer
I hadn't personally sampled YSL's 'Black Opium' before, however after purchasing MiimMiic's #39, I wanted another fragrance to layer-- Enter #76 'Spicy Amber Vanilla'. I am so glad I tried this one out, because I actually came to love it even more than the fragrance I originally bought a dupe for! This spicy yet sweet fragrance makes the perfect base layer for other combinations, but also plays well all on its own. After an 8 hour day, I could still smell a slight lingering spicy, sweet scent. A few sprays of this scent along with #39 really has become my 'signature scent' and I have been getting so many compliments on how sultry, sensual yet familiar & comforting my fragrance is. I highly recommend the two of them together! My only complaint is that the tall, slender bottles are prone to being knocked over and easily spill off my counter tops. I would love a thicker base to help with stability! Otherwise, this is a great deal and a literal FOURTH of what you'd pay for designer names. I am obsessed and will be back! Thanks MiimMiic!
A Sensual Journey with No 76 Spicy Amber Vanilla: The Modern Gourmand
Perfume: No 76 Spicy Amber Vanilla Roll-On Perfume
House: MiimMiic
Category: Gourmand
Perfumer: Sean O'mara
Introduction:
In the world of fragrances, few scents can capture the essence of indulgence, warmth, and modernity quite like No 76 Spicy Amber Vanilla from MiimMiic. As one of the most sought-after creations in their collection, this modern Gourmand has gained a loyal following and sparked curiosity in fragrance enthusiasts worldwide. Today, I am excited to share my experience with No 76 Spicy Amber Vanilla and delve into the secrets behind its allure.
Presentation:
MiimMiic's No 76 Spicy Amber Vanilla arrives in a sleek, elegant roll-on bottle that reflects the contemporary sophistication of the scent within. The minimalist design and subtle color palette let the fragrance take center stage, alluding to the captivating experience that awaits.
Scent Profile:
No 76 Spicy Amber Vanilla is a tantalizing blend of Amber notes, Coffee, and Vanilla that creates an addictive and irresistible olfactory experience. The opening is a bold, adrenaline-rich burst of coffee, which immediately captures your attention and evokes the invigorating energy of a bustling urban café. This vibrant opening is soon complemented by the sweetness of vanilla, adding a sense of comfort and familiarity to the scent.
As the fragrance develops, the seductive warmth of Amber notes takes over, enveloping you in a sensual embrace. The introduction of white flowers adds a delicate touch, lending an air of innocence and youthfulness to the composition. The softness of these floral notes balances the initial intensity of the coffee and vanilla, resulting in a harmonious and well-rounded fragrance.
Performance and Longevity:
No 76 Spicy Amber Vanilla boasts impressive longevity, with its captivating aroma lingering on the skin for hours. The projection is moderate, making it perfect for intimate encounters or social gatherings where you want to leave a subtle yet memorable impression.
Versatility:
The warm, seductive nature of No 76 Spicy Amber Vanilla makes it a perfect choice for evening wear and romantic occasions. However, the youthful, modern vibe it exudes allows it to be worn in daytime settings as well, especially during the cooler months of autumn and winter.
Conclusion:
MiimMiic's No 76 Spicy Amber Vanilla is an exquisite modern Gourmand that masterfully blends the invigorating energy of coffee with the seductive warmth of Amber notes and Vanilla. Its captivating scent profile and impressive performance make it an irresistible addition to any fragrance collection. If you're looking for a scent that is both alluring and contemporary, No 76 Spicy Amber Vanilla is a must-try. With its undeniable charm and versatility, this fragrance will undoubtedly become a beloved signature scent for many.
coffee and vinilla
This perfume is amazing! It smells like coffee and vanilla, blended perfectly to give you that YSL fragrance and it's soooo strong and long lasting! I absolutely love it!
I am in love with the new Miimmiic fragrance! It is a beautiful, light, and refreshing scent that I can't get enough of. I have been wearing it every day since I got it and I get compliments all the time. It is definitely my new favorite fragrance!
Let customers speak for us