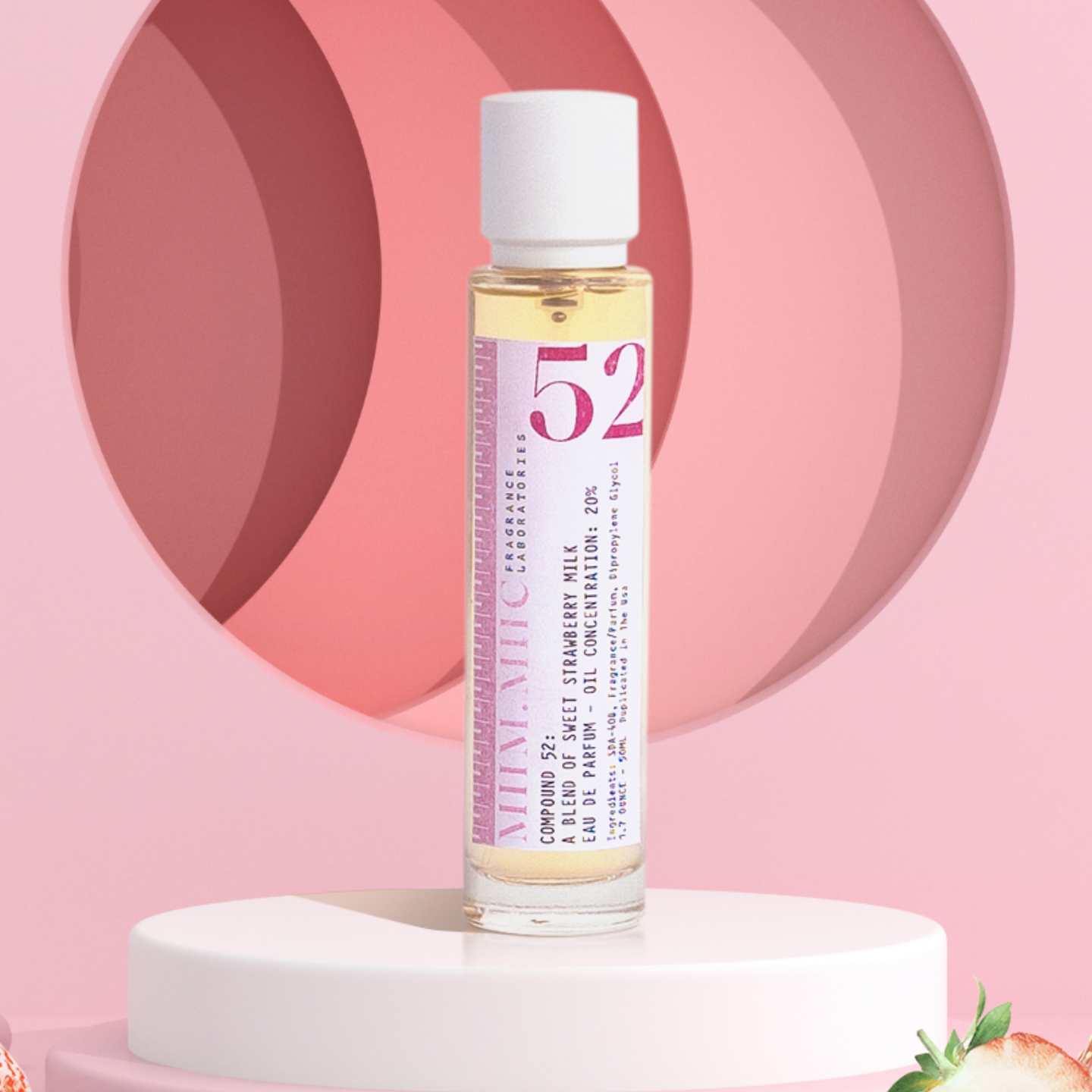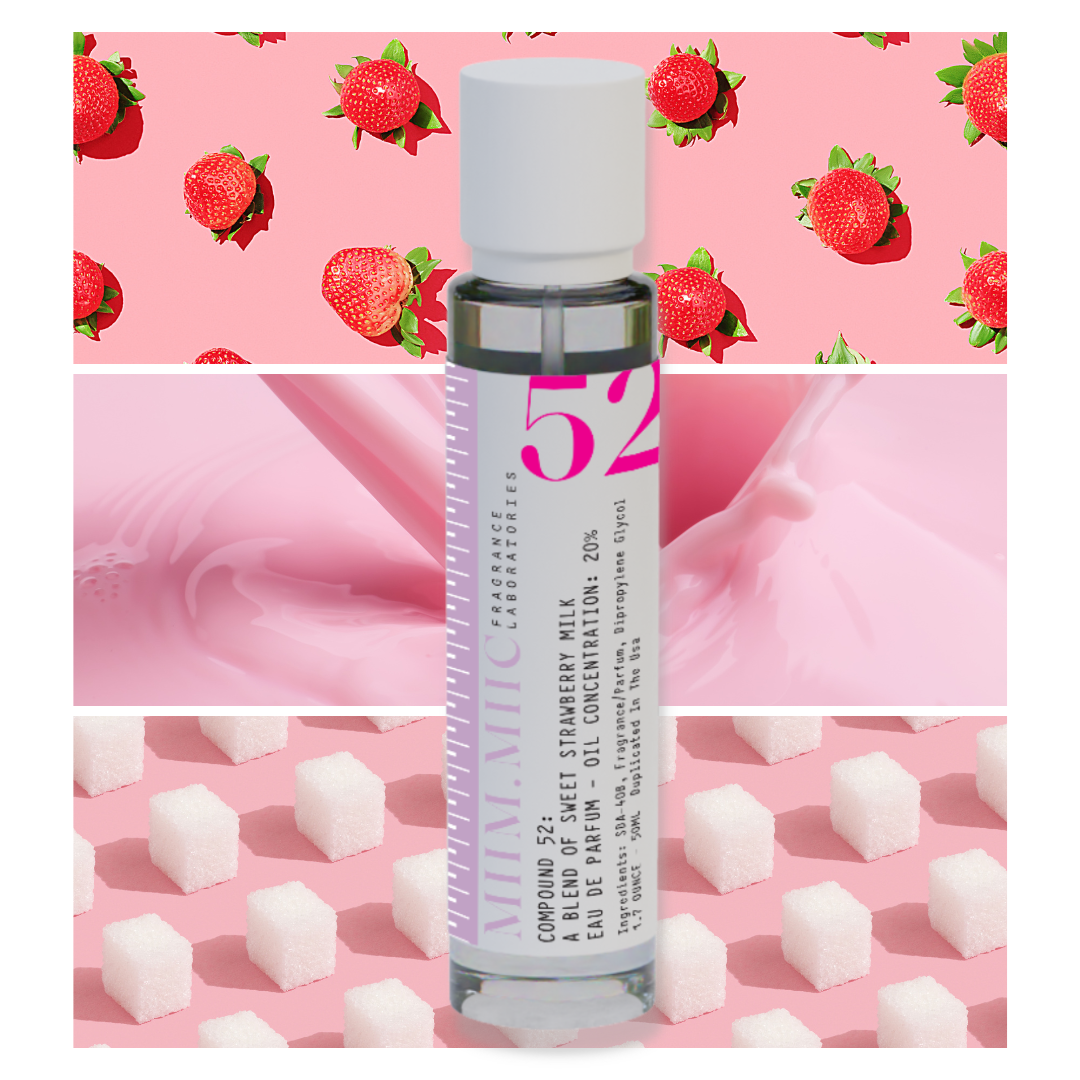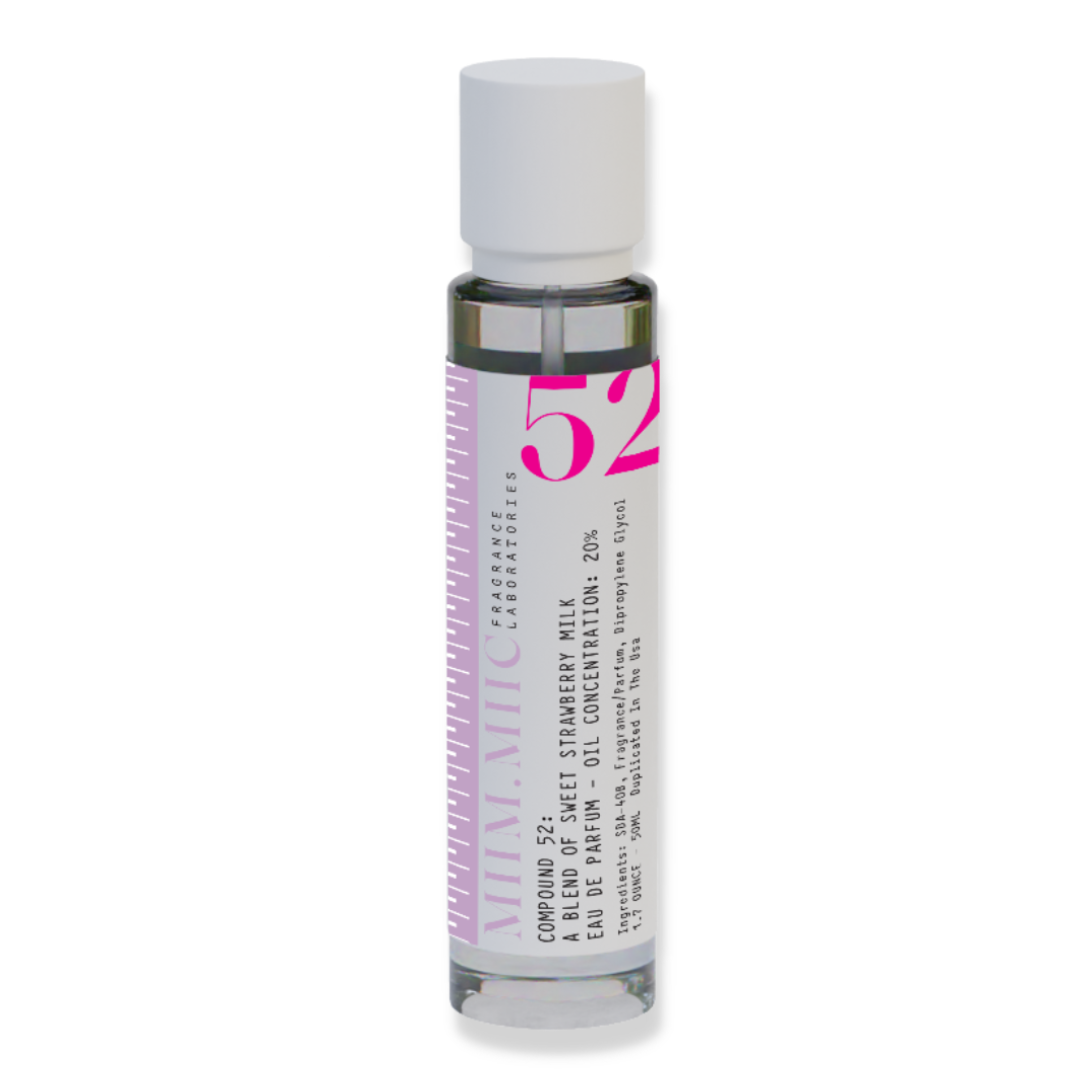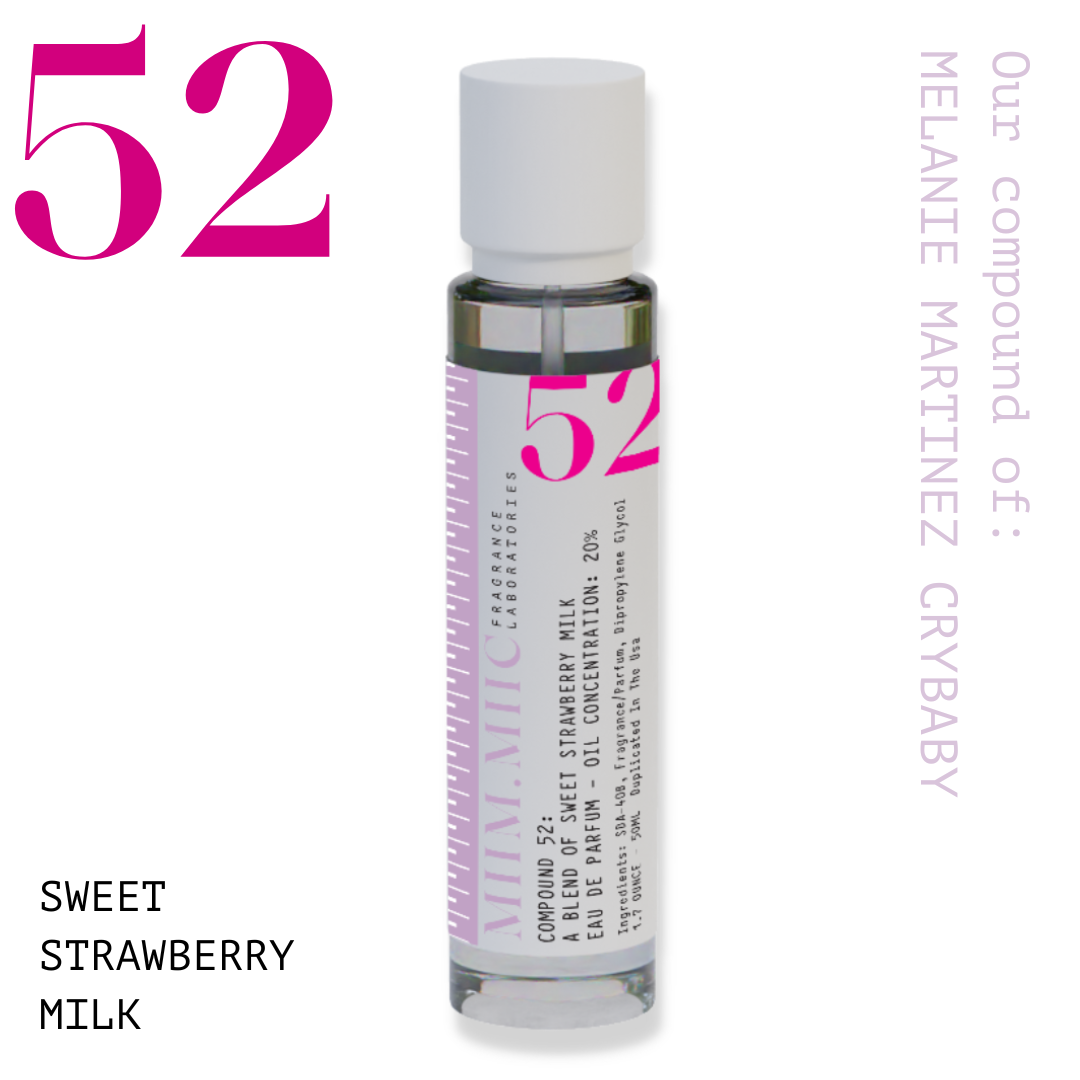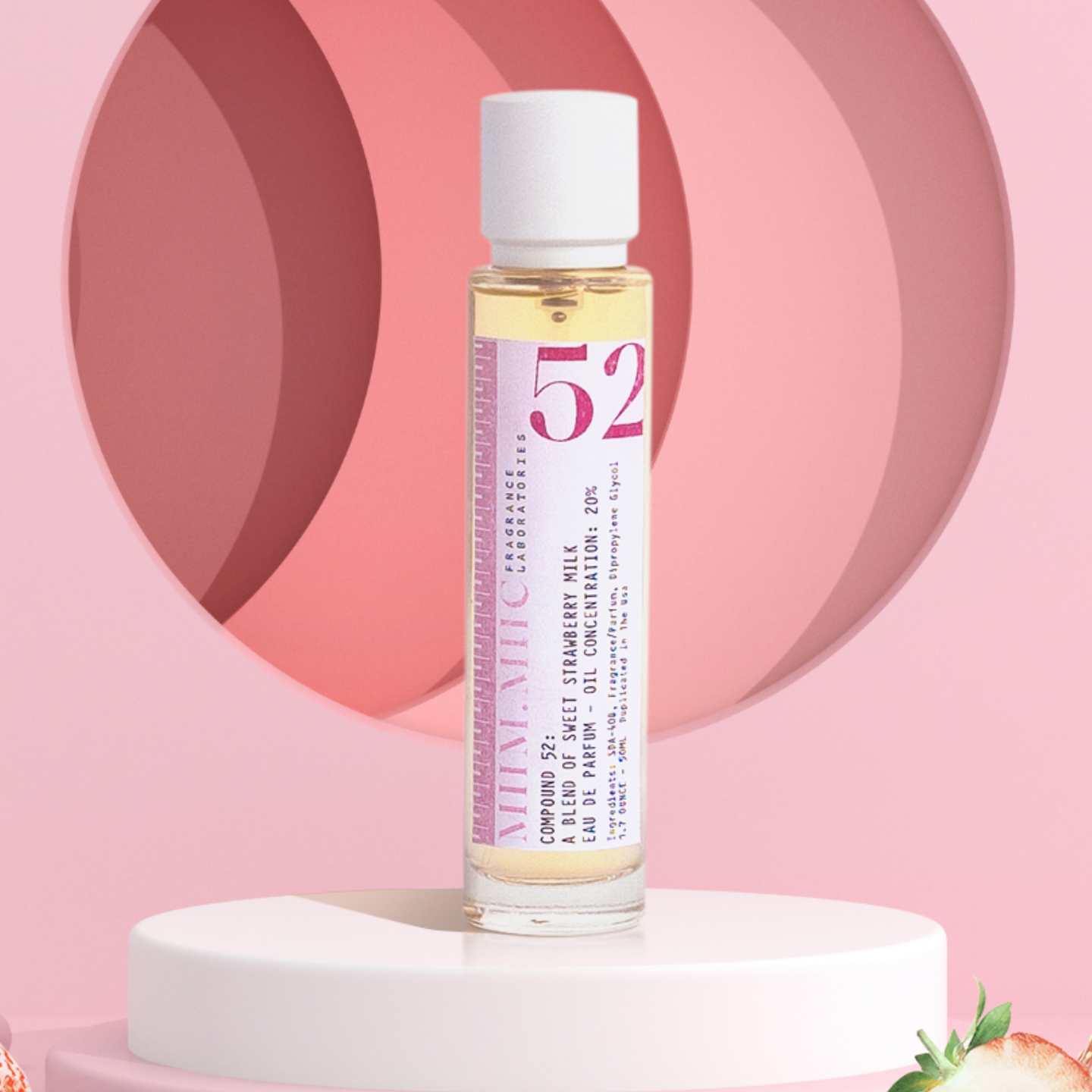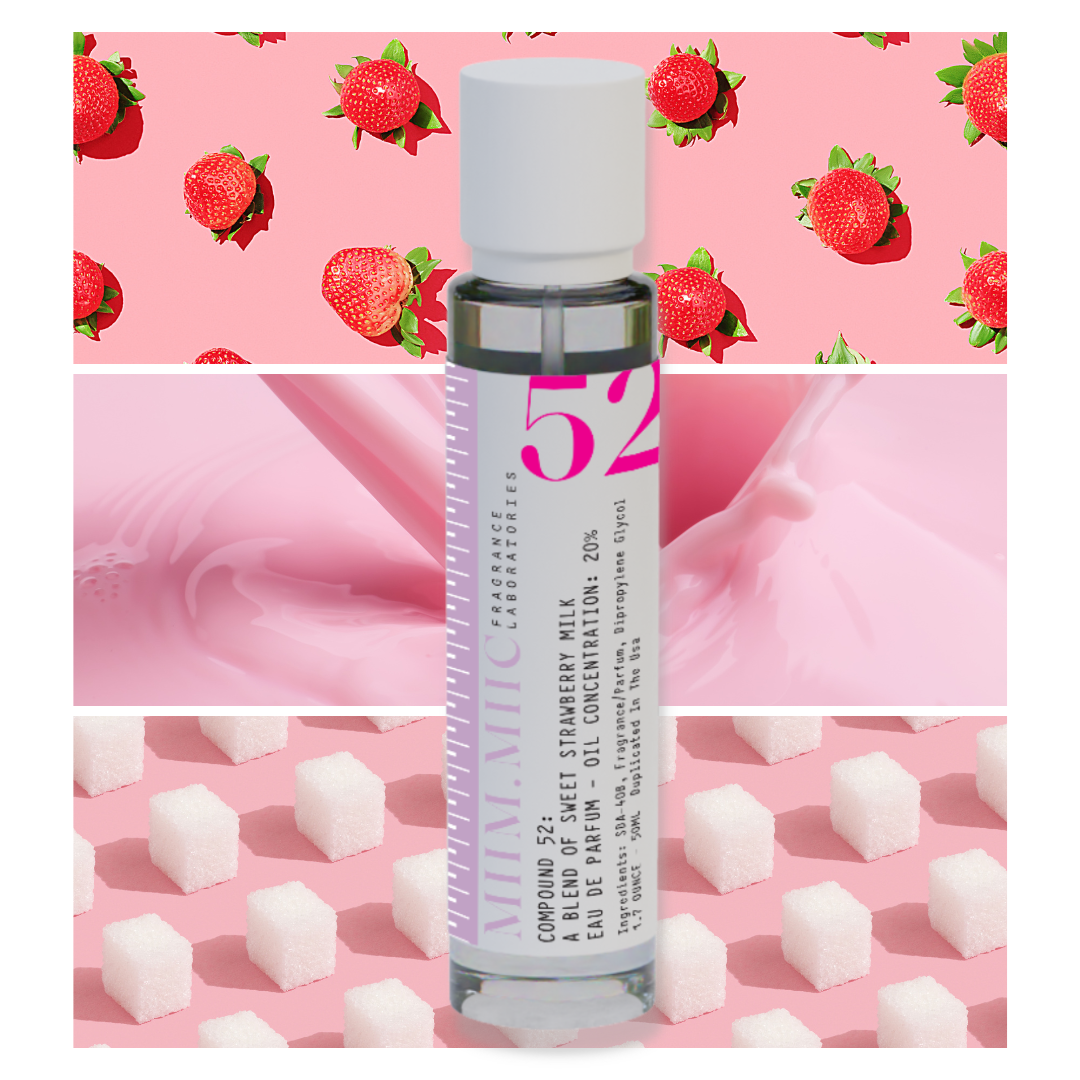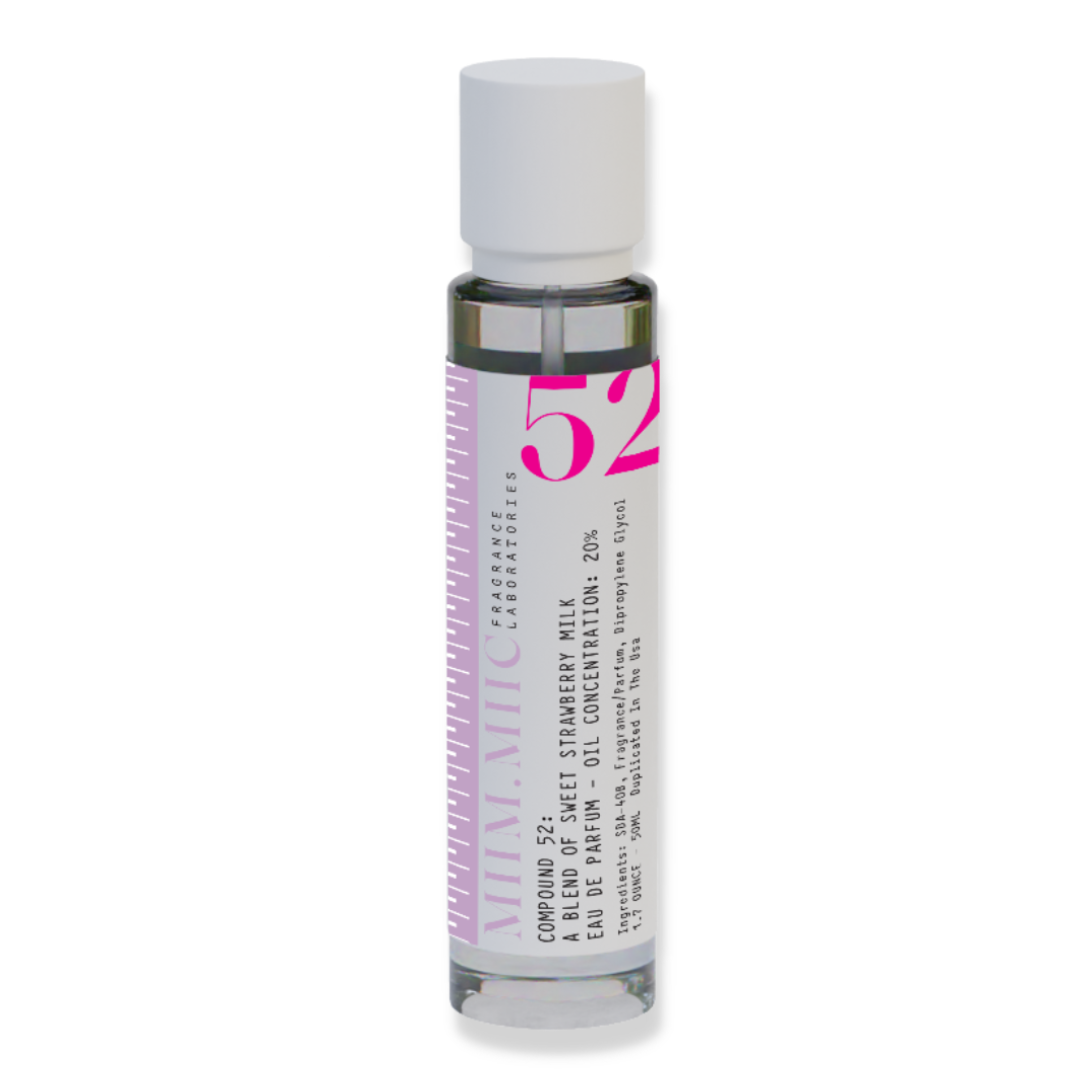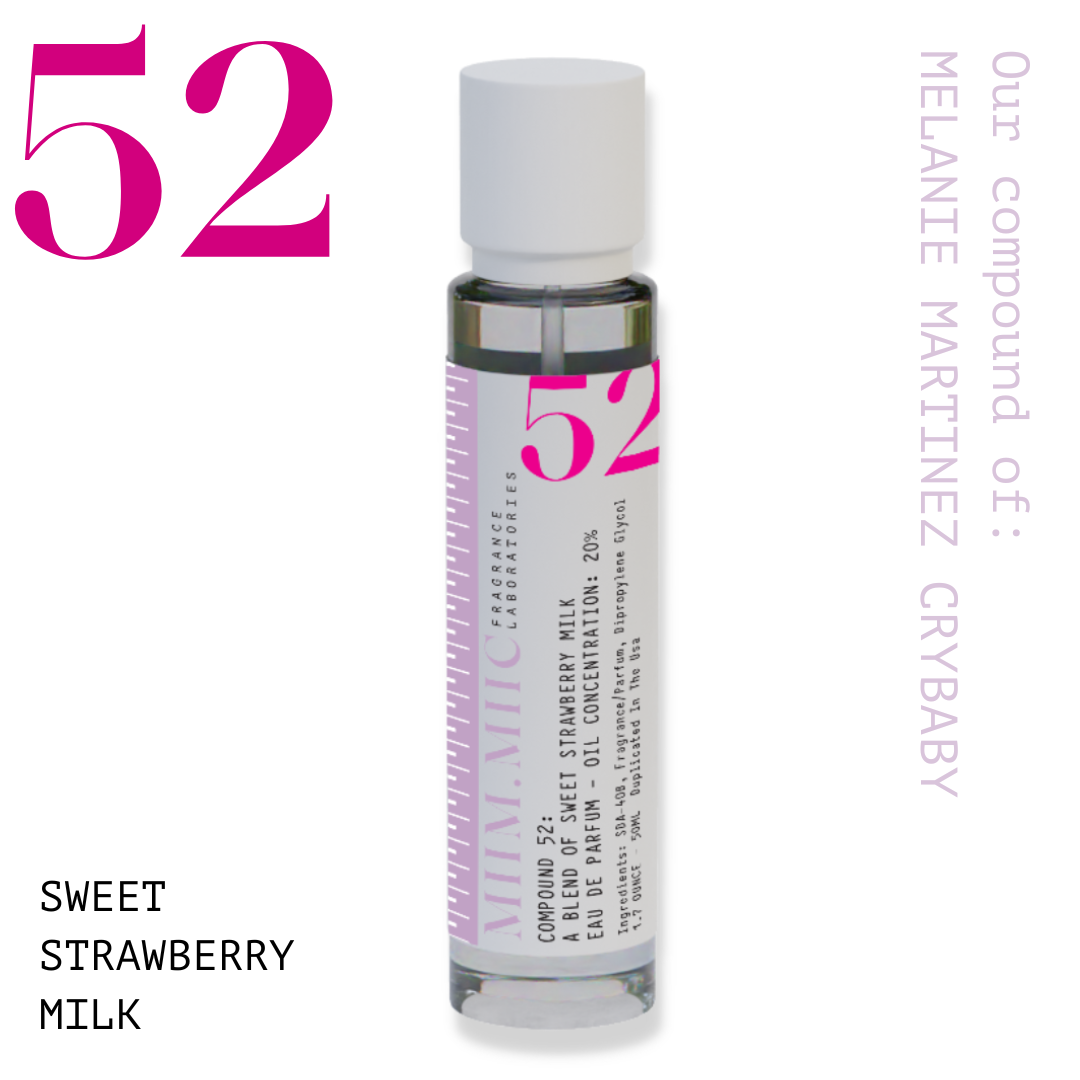 No 52 Sweet Strawberry Milk
Our Compound Of: Melanie Martinez Crybaby
Regular price

Sale price

$59.00 USD

Unit price

per
The most requested dupe in the history of MIIM.MIIC, our No 52: Sweet Strawberry Milk is our version of Melanie Martinez's Crybaby. This fruity gourmand blends together top notes of Strawberry, Lipstick, Plum and Raspberry with mid-notes of Milk, Lotion and Baby Powder. The dry down blends Caramel, Sugarcubes and Amber. This unique scent goes on soft and sweet with a surprisingly sophisticated dry down sure to grab compliments.
The Notes

TOP NOTES: Strawberry, Raspberry, Plum and Lipstick
MIDDLE NOTES: Milk, Baby Powder, Lotion
BOTTOM NOTES: Sugarcubes, Amber, Caramel
Ingredients

SDA-Alcohol 40B, Fragrance/Parfum, Dipropylene Glycol
The Formula

All our fragrances are vegan, cruelty-free, and formulated with industry clean standards. They are made without parabens, preservatives, phthalates, or synthetic dyes inside.
The Quality

Our fragrances are formulated for optimal performance and long-lasting wear without being overwhelming. Everyone's spray threshold is different, but if you typically spray 2-3 times a day, one MIIM.MIIC 50 ml bottle can last up to 3-4 months.
About Our Impressions...

MiimMiic Fragrance Labs does not violate copyright. MiimMiic competes with the designer brand.  It does not use their fragrances and is not associated in any way with the designer brands or their manufacturers. All trademarks are property of their respective owner. Designer/brand name is solely used for comparison purposes and to give customers idea of each fragrance's character and scent accords. We do not present our fragrances to be exact copies. We are in compliance with the FTC's statement of policy regarding comparative advertising.
Share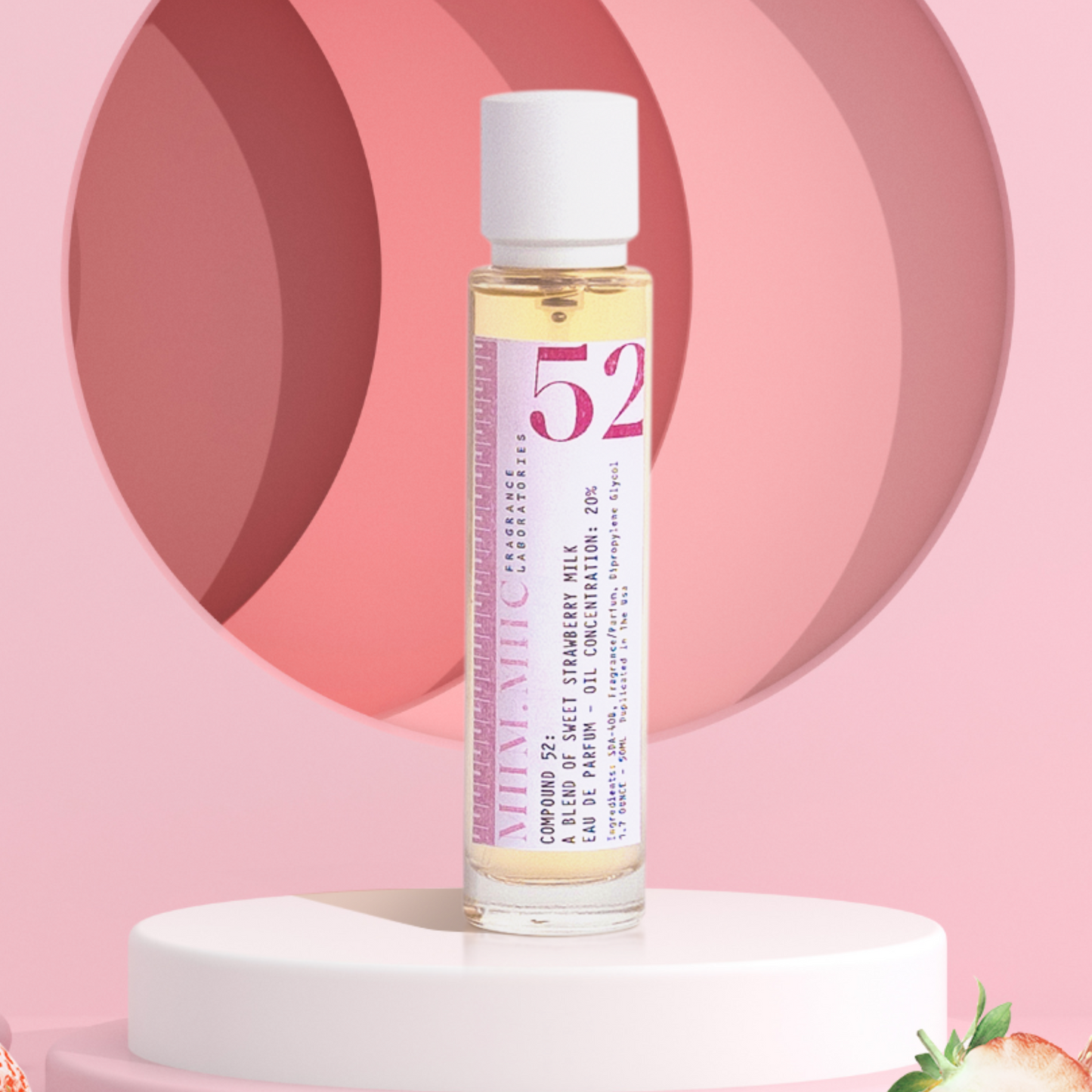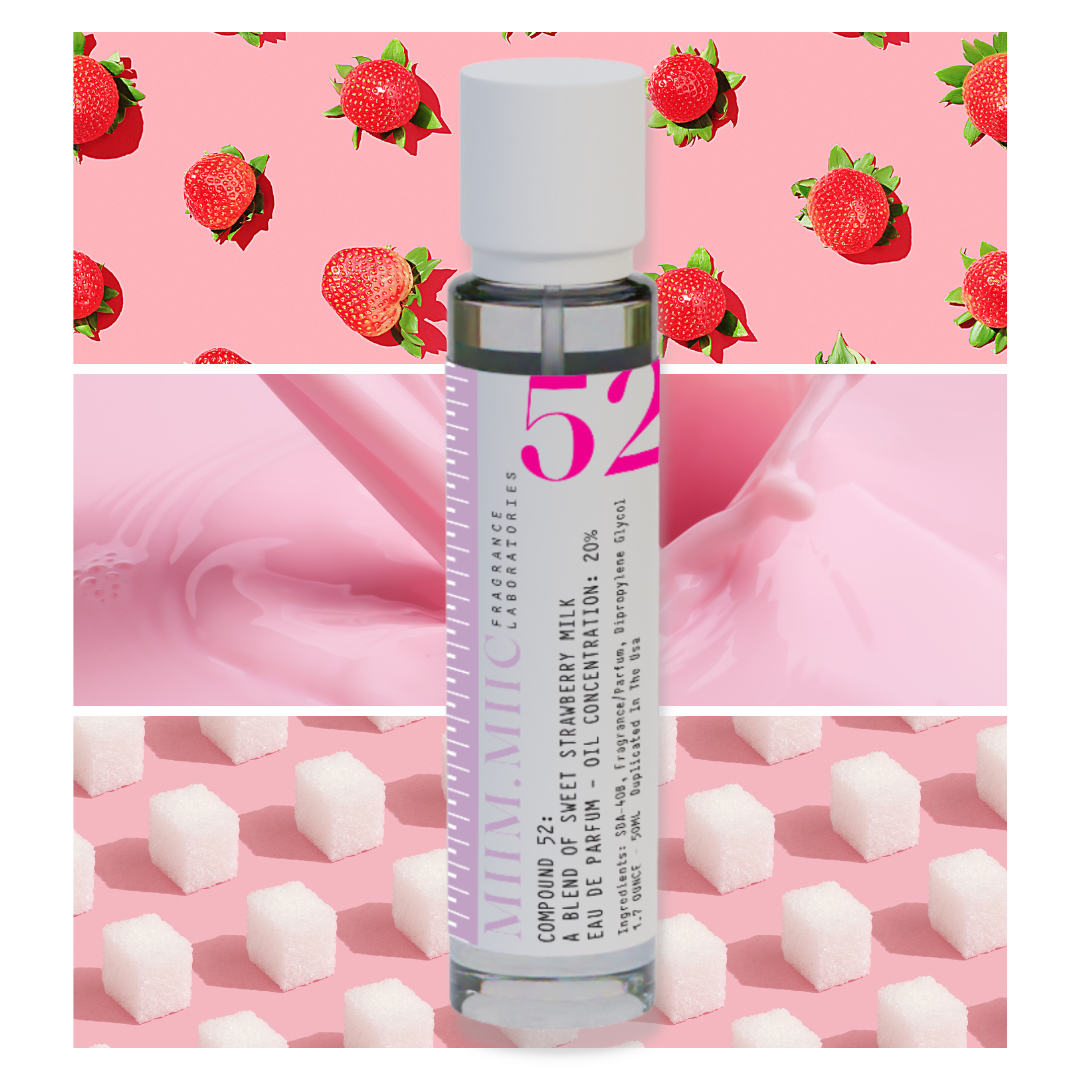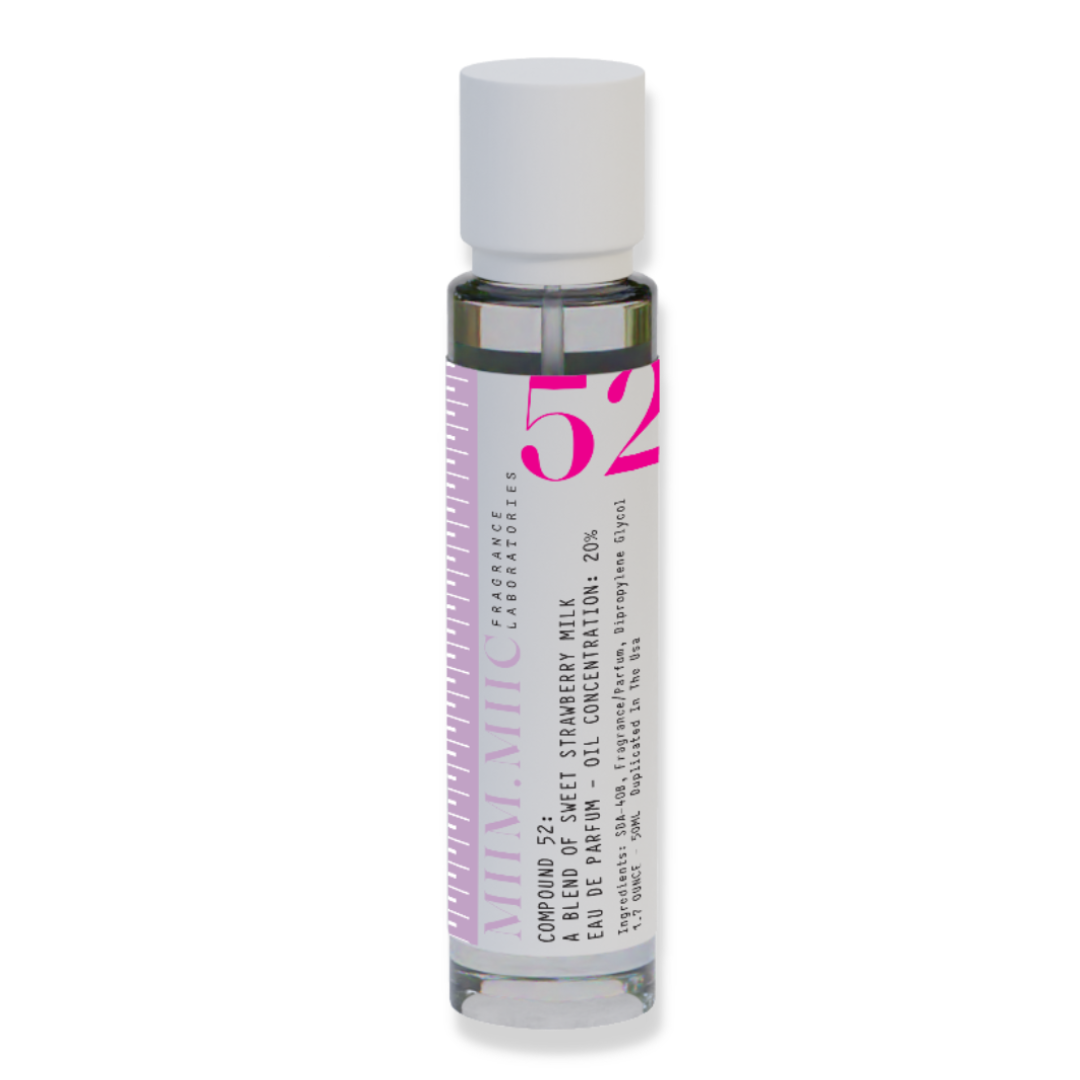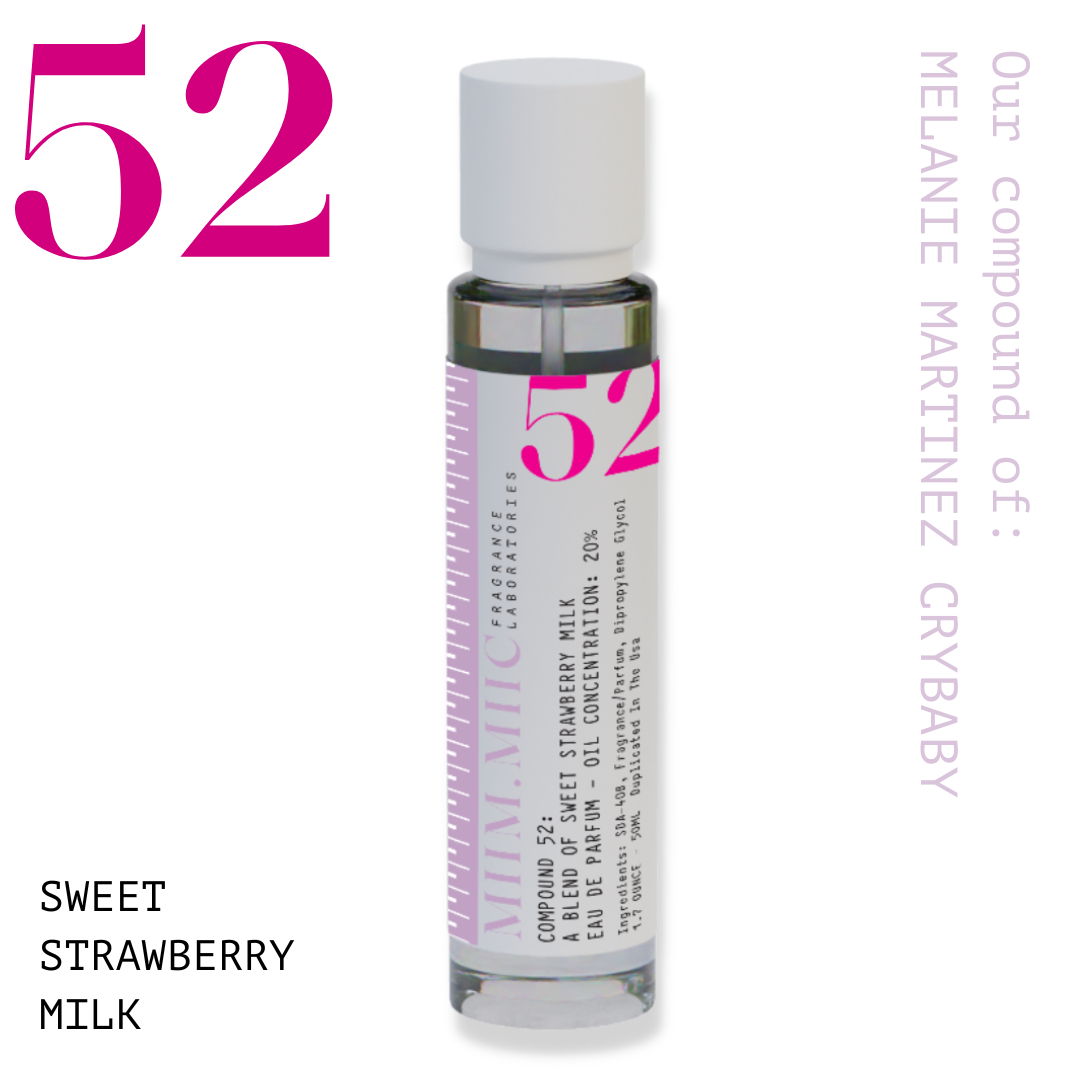 <3
I think it smells nice, idk what I was expecting but I like the smell. It's a very strong strawberry scent and as it fades it becomes more of a floral/powder strawberry scent. I also like that the bottle is glass, idk why but it makes me like it a little more lol
I love the smell! At first it smells kinda fruity and sweet and a while after spraying it on it turns into a caramel and more deep scent. The only bad thing is that it doesn't last that long and you have to spray more perfume than usual.
Lovely scent, short lasting
This is a super scent I enjoy wearing very much. I have received many compliments on this fragrance shortly after applying, but I wish it lasted longer on my skin. I reapply often.
nice smell!
smells a bit more floral and professional than you might expect, it's not rich or powdery smelling. smells odd the first minute or two but is very VERY long lasting and the top notes come out quick.
very slay
I blind bought this because I kept seeing the ad, so I bought it on a whim. Saw only that it was strawberry scented and was like "aight. strawberries smell good I'm into that" and it smells amazing! It's beyond strawberry to me. It's not completely fruity it's super complex and changes while it warms up on your skin. The bottle also feels expensive, which I like (:
Let customers speak for us